Florida St  30:1       28:1 (when posted)
I got 2 things to say about the young Seminoles.  Jonathan Isaac is a bona fide FREAK.  And GODDAMN this team is BIG.  Their starting lineup stands at 6'4, 6'6, 6'7, Isaac at 6'10, and 7'1, 304 pound beast Michael Ojo.
That's a SCARY TERMINATOR looking motherfucker.  What the hell is that?  Oh and if that's not enough check out their 7'4 backup center named CHRIST.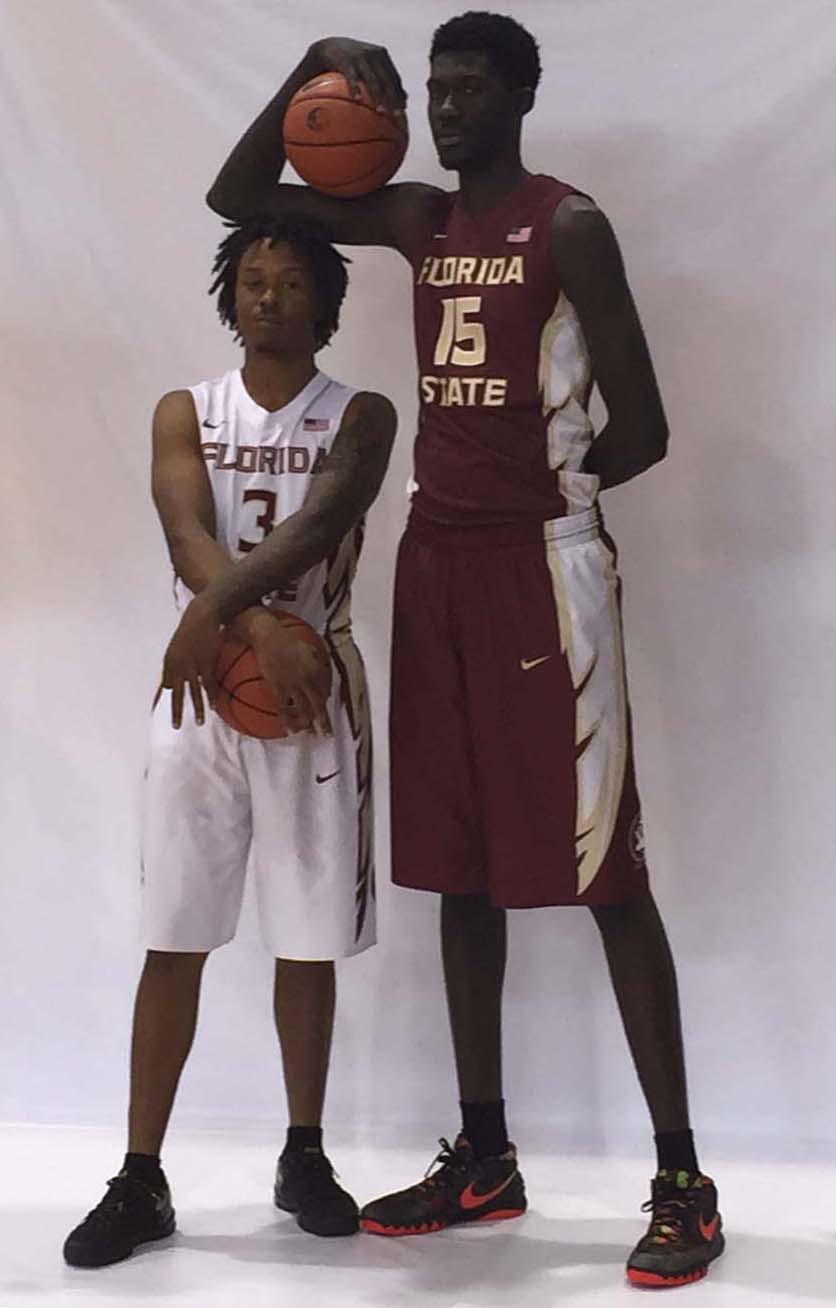 Jesus (sorry I had to) the smaller guy there is 6'4! They're not only gigantic human beings, they all jump out the gym.  If basketball were a training combine this team would be so far ahead of the field 2nd place wouldn't get a trophy.  So here's my question.  How are the Seminoles landing these freaks of nature all the sudden?
Jonathan Isaac, leading sophomore scorer Dwayne Bacon, and fellow sophomore Malik Beasley are the 1st, 3rd, and 8th highest recruits respectively in Coach Hamilton's 16 year tenure.  I'm not saying I'm just –.  Anyways…
Unfortunately for Leonard Hamilton's young guns there's a lot more to basketball than just being athletic.  Sure there's plenty to love about this team.  Isaac is plastic man 2.0 a la Kevin Durant with a bigger frame but a weaker jump shot (understatement of the century).  His spider monkey arms create havoc on the defensive end as he ranks in the top 200 in both steal and block percentage (via Kenpom); his thicker frame allows him to be a significantly better defender at this age than Durant ever was.  And while his offensive game obviously has a ways to go when comparing him to the rare air of KD, he's smooth and the tools are in place for a 20 ppg scorer in the NBA.  The issue is he's simply not getting the rock enough, he's tied for the 4th highest usage on his team.  That's on Coach Leonard Hamilton, and that's where this team begins to lose me.
Hamilton has been at Florida St for 16 years and reached the Sweet 16 once and the 2nd round once.  That's the summation of his March Madness success (if you can call it that) in Tallahassee.  The Seminoles haven't been to the Elite 8 since Big Balls Sam Cassell lead them there in 1993.
I'll use any situation to break out the big nuts, don't test me (link here).
Now to be fair, this team has something previous Florida St teams didn't and that's a shitload of talent.  Isaac's a projected top 10 NBA pick and Dwayne Bacon's team leading 17.8 ppg have him as a projected top 20 NBA pick.  There's a ton of athleticism and size surrounding them as I mentioned earlier, and former top 50 recruit Xavier Rathan-Mayes provides veteran leadership at point dishing 5 assists a game.
This team is just too young, too raw, and their coach isn't up for the task (Only 1 upperclassman gets serious minutes).  Can they face the right matchups and make a final 4 run?  They COULD, I see them as a popular "dark horse" before the tourny because of their 2 future NBAers.  There are definitely teams that'll be blown off the floor by this team's talent.  But aside from Kevin Ollie with UConn in 2014 (are we still sure that happened???) below are the names of coaches to win the title since 2003:
Jay Wright, Coach K, Rick Pitino, John Calipari, Jim Calhoun, Roy Williams, Bill Self, Billy Donovan, and Jim Boeheim.  If you want to take a shot with Mr. Hamilton who has a total of 3!! March Madness wins since his inaugural year in 2002 be my guest.  He's all yours.
VERDICT:  LAY OFF